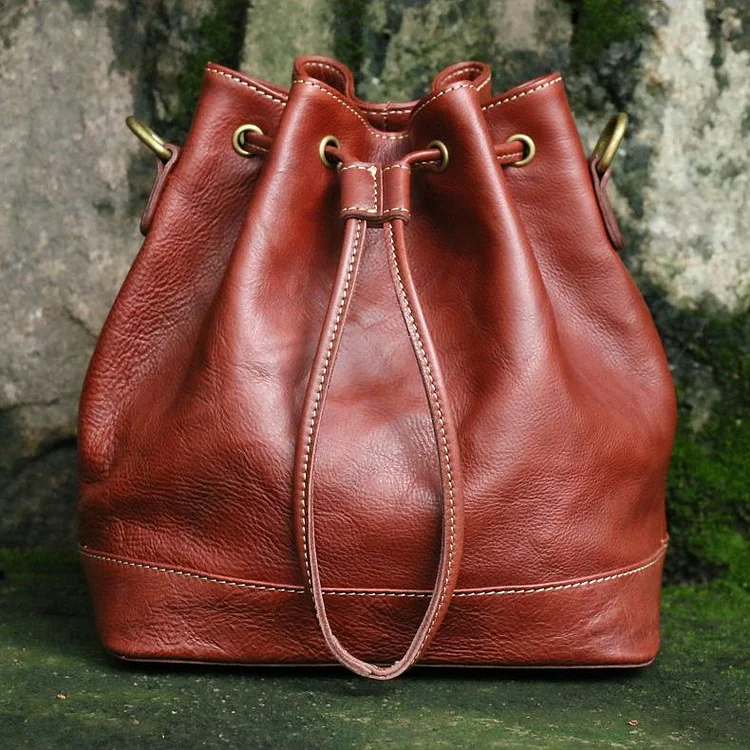 Specificatons
Material: First layer cowhide
Color: Brown/Yellow/Black
Size: 25*22*16cm
Weight:0.4kg
Feature
Bucket type luggage
A long shoulder strap can be carried cross-body or hand-held
Soft leather
About texture:
Different parts of the cow's body produce different textures; for example, the texture of the neck, abdomen, and buttocks will be thicker, while the texture of the back will be thinner. Due to the nature of the animal's natural growth, the texture produced will vary in depth.
About color difference:
The leather materials used in our products are all dyed with plant colorants and then artificially oiled, waxed, polished, and tanned; the natural scars on the leather surface cause uneven fuel absorption, which is a normal phenomenon that cannot be avoided.
Regarding defects:
The scars, skins, mosquito bites, etc. produced by the cattle during the growth process, these existing phenomena, the characteristics of the formal scalp skin, cannot be avoided and dealt with. It is not a quality issue.
${function(){ const rules = data.data.rules; return ` ` }()}
${function(){ const isCart = data.data.isCart; const isCollection = data.data.isCollection; const isProduct = data.data.isProduct; const isIndex = data.data.isIndex; return `

${isCart ? 'The items in the shopping cart do not participate in any recommendation rule. Add the participating items to your shopping cart to check the design.' : ''} ${isProduct ? 'This product did not participated in any recommendation rule. Switch to another product to check the design.' : ''} ${isCollection ? 'The items in this collection do not participate in any recommendation rule. Switch the participating items to check the design.' : ''} ${isIndex ? 'The home page do not participate in any recommendation rule.' : ''} (This prompt would not display on client-side)

Recommended Products

` }()}
${function(){ const rule = data.data; const getImageHeight = function(image){ const image_size = rule.config.image_size || 0; const imageWidth = image.width || 600; const imageHeight = image.height || 800; let ratio = 0; if(image_size == 0){ ratio = (imageHeight / imageWidth).toFixed(2); }else if(image_size == 1){ ratio = 1.5; }else if(image_size == 2){ ratio = 1; }else if(image_size == 3){ ratio = 0.75; } return imageWidth * ratio; }; const toQuery = obj => Object.keys(obj) .map(k => Array.isArray(obj[k]) ? obj[k].map(v => `${k}[]=${encodeURIComponent(v)}`).join('&') : `${k}=${encodeURIComponent(obj[k])}` ) .join('&'); return `
class SpzSmartBlockComponent extends SPZ.BaseElement { constructor(element) { super(element); this.templates_ = null; this.container_ = null; this.i18n_ = {}; this.config_ = {}; this.show_type_ = 3; this.product_resource_id_ = ''; this.collection_resource_id_ = ''; this.cart_items_ = []; this.customer_id_ = ''; this.order_id_ = ''; } static deferredMount() { return false; } isLayoutSupported(layout) { return layout == SPZCore.Layout.CONTAINER; } buildCallback() { const template_type = window.SHOPLAZZA.meta.page.template_type; if (template_type === 1) { this.show_type_ = 3; this.product_resource_id_ = window.SHOPLAZZA.meta.page.resource_id; } else if (template_type === 2) { this.show_type_ = 4; this.collection_resource_id_ = window.SHOPLAZZA.meta.page.resource_id; } else if (template_type === 15){ this.show_type_ = 5; } else if (template_type === 13){ this.show_type_ = 6; } else if (template_type === 20){ this.show_type_ = 7; this.customer_id_ = window.SHOPLAZZA.customer.customer_id; } else if (template_type === 35){ this.show_type_ = 8; this.order_id_ = window.location.pathname.split('/').pop(); } this.templates_ = SPZServices.templatesForDoc(this.element); this.setAction_(); } mountCallback() { console.log('smart mounted'); const that = this; const themeName = window.SHOPLAZZA.theme.merchant_theme_name; const isGeek = /Geek/.test(themeName); this.fetchRules().then((res) => { if (res && res.rules && res.rules.length) { const blockEl = document.getElementById('smart_recommend_block'); SPZ.whenApiDefined(blockEl).then((api) => { api.render({data: res}, true).then(() => { if (isGeek && that.show_type_ === 6) { blockEl.querySelector('.plugin_container_wrpper').style.padding = '30px 0'; } const recommendStyle = document.createElement('style'); recommendStyle.innerHTML = ` .plugin__recommend_container,.app-recommend-card { display: none !important; } `; document.head.appendChild(recommendStyle); const fetchList = []; res.rules.forEach((rule) => { fetchList.push(this.fetchRuleProductList(rule.id)); }); const fetchAll = Promise.all(fetchList); fetchAll.then((p_res) => { res.rules.forEach((rule, index) => { rule.products = p_res[index] && p_res[index].products; const ruleEl = document.getElementById('smart_recommend_rule_' + rule.id); SPZ.whenApiDefined(ruleEl).then((api) => { api.render({data: rule}, true).then(() => { that.impressListen(`#smart_recommend_rule_ul_${rule.id}`, function(){ that.trackRuleImpress(rule); }); const btnElList = document.querySelectorAll(`#smart_recommend_rule_ul_${rule.id} button`); btnElList.forEach((btnEl) => { if (btnEl && rule.config && rule.config.quick_shop_button_bg_color && rule.config.quick_shop_button_text_color) { btnEl.style.backgroundColor = rule.config.quick_shop_button_bg_color; btnEl.style.color = rule.config.quick_shop_button_text_color; } }) }); }); }); }); }) }) } else { if (window.top !== window.self) { const template_type = window.SHOPLAZZA.meta.page.template_type; const holderEl = document.getElementById('smart_recommend_preview_no_data_placeholder'); SPZ.whenApiDefined(holderEl).then((api) => { api.render({data: { isCart: template_type === 13, isCollection: template_type === 2, isProduct: template_type === 1, isIndex: template_type === 15 }}, true); }); } } }); } setAction_() { this.registerAction('quickShop', (data) => { const that = this; const product_id = data.args.product_id; const productIndex = data.args.productIndex; const rule_id = data.args.rule_id; const ssp = data.args.ssp; const scm = data.args.scm; const cfb = data.args.cfb; const ifb = data.args.ifb; const modalRender = document.getElementById('smart_recommend_product_modal_render'); if (product_id) { this.fetchProductData(product_id).then((res) => { const product = res.products && res.products.length && res.products[0] || {}; product.cfb = cfb; product.ifb = ifb; SPZ.whenApiDefined(modalRender).then((api) => { api.render({product: product, productIndex: productIndex, rule_id: rule_id, ssp: ssp, scm: scm, show_type: that.show_type_}, true).then(() => { const modalEl = document.getElementById('smart_recommend_product_modal'); SPZ.whenApiDefined(modalEl).then((modal) => { that.impressListen('#smart_recommend_product_modal', function(){ that.trackQuickShop({ rule_id: rule_id, product_id: product_id }); }); modal.open(); }); const formEl = document.getElementById('smart_recommend_product_form'); SPZ.whenApiDefined(formEl).then((form) => { form.setProduct(product); }); const variantEl = document.getElementById('smart_recommend_product_variants'); SPZ.whenApiDefined(variantEl).then((variant) => { variant.handleRender(product); }); }); }) }); } }); this.registerAction('handleScroll', (data) => { this.directTo(data.args.rule_id, data.args.direction); }); this.registerAction('handleProductChange', (data) => { const variant = data.args.data.variant; const product = data.args.data.product; const imageRenderEl = document.getElementById('smart_recommend_product_image'); SPZ.whenApiDefined(imageRenderEl).then((api) => { api.render({ variant: variant, product: product }, true); }); }); this.registerAction('handleAtcSuccess', (detail) => { const data = detail.args; data.data.product = data.data.product || {}; data.data.variant = data.data.variant || {}; const product_id = data.data.product.id; const product_title = data.data.product.title; const variant_id = data.data.variant.id; const price = data.data.variant.price; const rule_id = data.rule_id; const aid = `smart_recommend.${this.show_type_}.${rule_id}`; const ifb = data.data.product.ifb; const cfb = data.data.product.cfb; const ssp = data.ssp; const scm = data.scm; const spm = `smart_recommend_${this.show_type_}.${data.spmIndex}`; const params = { id: product_id, product_id: product_id, number: 1, name: product_title, variant_id: variant_id, childrenId: variant_id, item_price: price, source: 'add_to_cart', _extra: { aid: aid, ifb: ifb, cfb: cfb, scm: scm, spm: `..${window.SHOPLAZZA.meta.page.template_name}.${spm}`, ssp: ssp, } }; this.tranckAddToCart(params); }); this.registerAction('addATCHook', (data) => { const params = data.args; const spm = `smart_recommend_${this.show_type_}.${params.spmIndex}`; this.myInterceptor_ = window.djInterceptors && window.djInterceptors.track.use({ event: 'dj.addToCart', params: { aid: `smart_recommend.${this.show_type_}.` + params.rule_id, ssp: params.ssp, scm: params.scm, cfb: params.cfb, spm: `..${window.SHOPLAZZA.meta.page.template_name}.${spm}`, }, once: true }); }); } tranckAddToCart(detail) { if (window.$) { window.$(document.body).trigger('dj.addToCart', detail); } } fetchRules() { const payload = { show_type: this.show_type_, }; let that = this; if (this.show_type_ === 6) { let line_items = []; return this.fetchCart().then((res) => { if (res && res.cart && res.cart.line_items) { line_items = res.cart.line_items.map((item) => { return { product_id: item.product_id, variant_id: item.variant_id, quantity: item.quantity, price: item.price } }); } payload.line_items = line_items; that.cart_items_ = line_items; return that.fetchRulesRequest(payload); }); } else { if (this.show_type_ === 3) { payload.line_items = [{ product_id: this.product_resource_id_ }]; } else if (this.show_type_ === 4) { payload.collection_id = this.collection_resource_id_; } else if (this.show_type_ === 7) { payload.customer_id = this.customer_id_; } else if (this.show_type_ === 8) { payload.order_id = this.order_id_; } return this.fetchRulesRequest(payload); } } fetchRulesRequest(payload) { return fetch(window.SHOPLAZZA.routes.root + "/api/possum/recommend_query", { method: "POST", headers: { "Content-Type": "application/json" }, body: JSON.stringify(payload) }).then(function(res){ if(res.ok){ return res.json(); } }); } fetchCart() { return fetch(`/api/cart/cart-select?r=${Math.random().toString(36).slice(-4)}`) .then((res) => { if (res.ok) { return res.json(); } }); } fetchRuleProductList(rule_id) { const payload = { page: 1, limit: 100, fields: ["title", "url", "image", "min_price_variant.price", "min_price_variant.compare_at_price"], rule_id: rule_id, }; if (this.show_type_ === 3) { payload.line_items = [{ product_id: this.product_resource_id_ }]; } else if (this.show_type_ === 4) { payload.collection_id = this.collection_resource_id_; } else if (this.show_type_ === 6) { payload.line_items = this.cart_items_; } else if (this.show_type_ === 7) { payload.customer_id = this.customer_id_; } else if (this.show_type_ === 8) { payload.order_id = this.order_id_; } return fetch(window.SHOPLAZZA.routes.root + "/api/possum/recommend_products", { method: "POST", headers: { "Content-Type": "application/json" }, body: JSON.stringify(payload) }).then(function(res){ if(res.ok){ return res.json(); } }).catch(function(err){ console.log(err); }); } fetchProductData(product_id) { return fetch(window.SHOPLAZZA.routes.root + "/api/possum/products", { method: "POST", headers: { "Content-Type": "application/json" }, body: JSON.stringify({ product_ids: [product_id], fields: [ "images", "options", "min_price_variant", "variants"] }) }).then(function(res){ if(res.ok){ return res.json(); } }).catch(function(err){ console.log(err); const loadingEl = document.getElementById('smart_recommend_loading'); if (loadingEl) { loadingEl.style.display = 'none'; } }); } getStyle(ele, style) { if (!ele) return; if (window.getComputedStyle) { return window.getComputedStyle(ele)[style]; } return ele.currentStyle[style]; } directTo(id, direction) { const scrollElement = document.getElementById(`smart_recommend_rule_ul_${id}`); const blockWidth = parseInt(this.getStyle(scrollElement, 'width')); const scrollLength = (blockWidth * 0.19 - 12) * 5; const scrollPoint = scrollElement.scrollWidth - scrollElement.clientWidth; if (!scrollElement) return; if (direction === 'left') { if (document.dir === 'rtl') { scrollElement.scrollTo({ left: Math.abs(scrollElement.scrollLeft) >= scrollPoint - 100 ? 0 : scrollElement.scrollLeft - scrollLength, behavior: 'smooth' }); return; } scrollElement.scrollTo({ left: Math.max(scrollElement.scrollLeft - scrollLength, 0), behavior: 'smooth' }); } else { if (document.dir === 'rtl') { scrollElement.scrollTo({ left: Math.abs(scrollElement.scrollLeft) >= scrollPoint + 100 ? 0 : scrollElement.scrollLeft + scrollLength, behavior: 'smooth' }); return; } scrollElement.scrollTo({ left: scrollElement.scrollLeft >= scrollPoint - 100 ? 0 : scrollElement.scrollLeft + scrollLength, behavior: 'smooth' }); } } trackRuleImpress(rule) { if (window.sa && window.sa.track) { window.sa.track("plugin_common", { plugin_name: "upsell", event_type: "impressions", rule_id: rule.id, ssp: rule.ssp, scm: rule.scm, show_type: this.show_type_, support_app_block: window.SHOPLAZZA.theme.support_app_block }); window.sa.track("module_impressions", { aid: `smart_recommend.${this.show_type_}.${rule.id}`, support_app_block: window.SHOPLAZZA.theme.support_app_block }); } } trackQuickShop(data) { window.sa && sa.track && sa.track("plugin_common", { plugin_name: "upsell", event_type: "quick_shop", rule_id: data.rule_id, product_id: data.product_id, show_type: this.show_type_, }); } impressListen(selector, cb) { const el = document.querySelector(selector); const onImpress = (e) => { if (e) { e.stopPropagation(); } cb(); }; if (el && !el.getAttribute('imprsd')) { el.addEventListener('impress', onImpress) } else if (el) { onImpress(); } } } SPZ.defineElement('spz-custom-smart-block', SpzSmartBlockComponent);
${(function(){ const product = data.product; const toQuery = obj => Object.keys(obj) .map(k => Array.isArray(obj[k]) ? obj[k].map(v => `${k}[]=${encodeURIComponent(v)}`).join('&') : `${k}=${encodeURIComponent(obj[k])}` ) .join('&'); return `
${product.images.map((image) => { return `` }).join('')}
`; })()}
${(function(){ const product = data.product; const avail_variants = product.variants.filter(function(variant){ return variant.available; }); const selected_variant = product.min_price_variant.available ? product.min_price_variant : avail_variants.length && avail_variants[0]; return ` ` })()}